Eostar Kamala – Reconnecting with the Luminous Self through Higher States of Consciousness, Exploring the Road that leads to Wholeness
Mystic, devotional singer-songwriter, breathwork practitioner, yoga-teacher, shamanic healer, sound-alchemist and visual artist, Eostar is devoted to facilitate real spiritual experiences, holding sacred space for transformational work, healing and a taste of divine enchantment.
Like us on Facebook to follow our latest posts…
"Illuminate" – our latest music album with Eostar and the WEB of ONE – a beautiful collection of my original songs – is now available as a FREE DIGITAL DOWNLOAD here.
Welcome to my personal home-page, the virtual space from where I am shining my light to the world. I hope you have already downloaded our last CD "Illumintate" and you are enjoying it as much as we did creating it!  Produced by my long-time music companion Mathias Pailas and co-produced by Grammy-nominee sound engineer Tim Gennert and myself, "Illuminate" is a true message of higher consciousness from my heart to yours.  
What is new in my Life? Two years ago I was diagnosed with a rare type of cancer tumor in my upper palette.  Although I had no pain and the tumor was barely felt, the event shook my world.  After a year and a half of trying all types of natural treatments, I ran out of funds and the MRI showed a 40% increase in size.  What followed was a necessary acceptance of the gifts of Western Medicine, a fairly brutal surgery that involved tissue transplant from my upper thigh into my mouth and a miraculously fast recovery.  Throughout the 2 years of my cancer-journey I was blogging on Facebook on healing and natural therapies as well as insights on the deeper aspects of emotional and spiritual transformation through illness.  At this time I am working on to turning the writings into a book.  My music career has been more-or-less put on hold for a while although I played shamanic healing songs at various local events even in spite of my health-crisis.  After my full recovery last Fall  I was invited to participate in a musical offering at Bhaktifest where I experienced the Breathwork Ceremony of Michael Brian Baker (www.thebreathcenter.com).  I was so fascinated by the pure power of breath to take me to higher states of consciousness that I took all 4 levels of his certification course in October.  A month ago I started combining breathwork and sacred sound healing meditations in group settings and it appears that this offering is my "grand come-back" after the transformation that my life-threatening illness brought to me.  I am really looking forward to facilitating more breathwork events followed by sound journeys and mantra/healing-song practices.  I am grateful for  Life on this planet, for all the contrasts that this physical reality has to offer in order to train us and make us into wiser and more whole beings.  Mathias Pailas and I are planning to master and publish a CD of music recordings from shamanic ceremonies, so please keep an eye on future updates.  Keep warm, keep your hearts open, a new era is now about to start!
For up-to-date info please sign my mailing-list and click on the "Track" button under the list of events here so you get updates on new events on Facebook!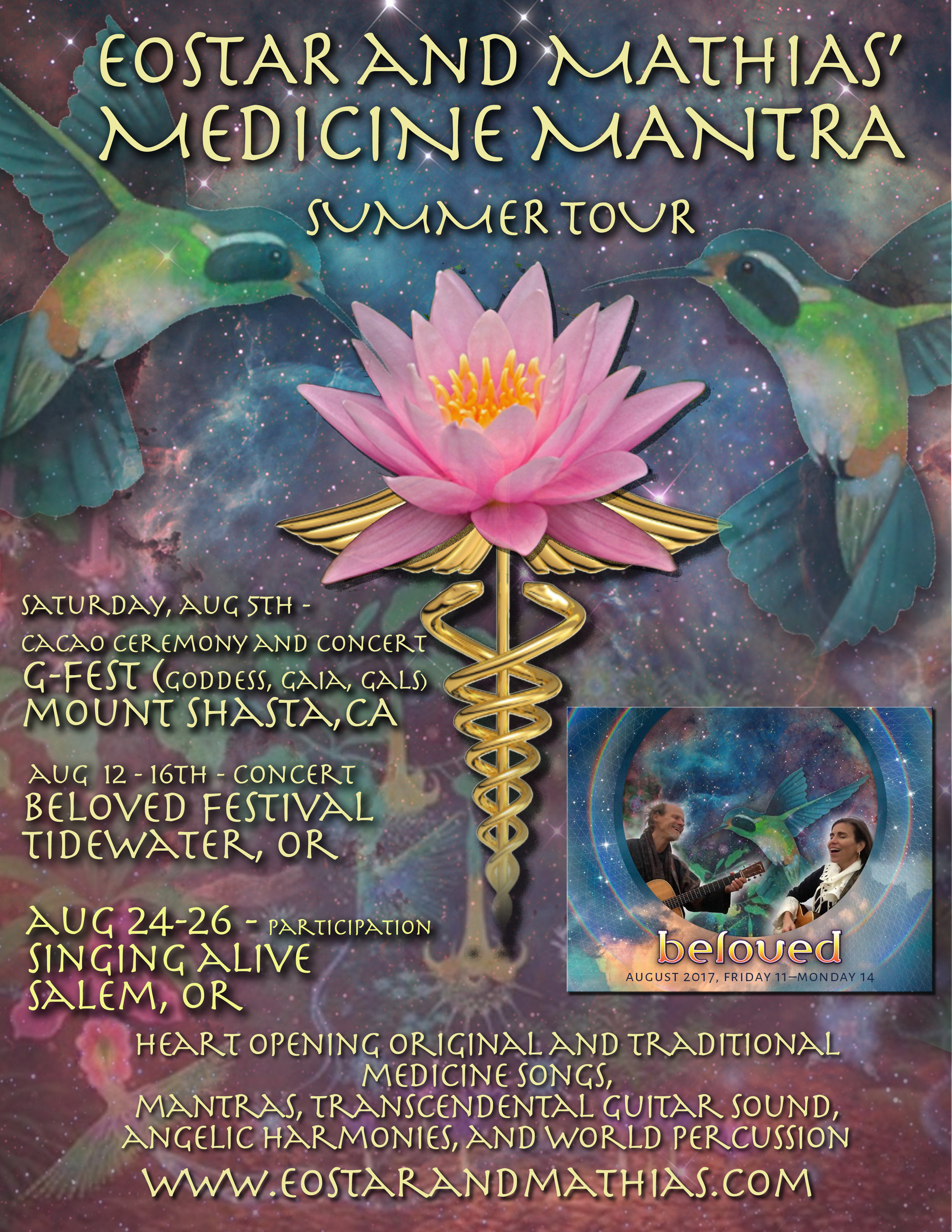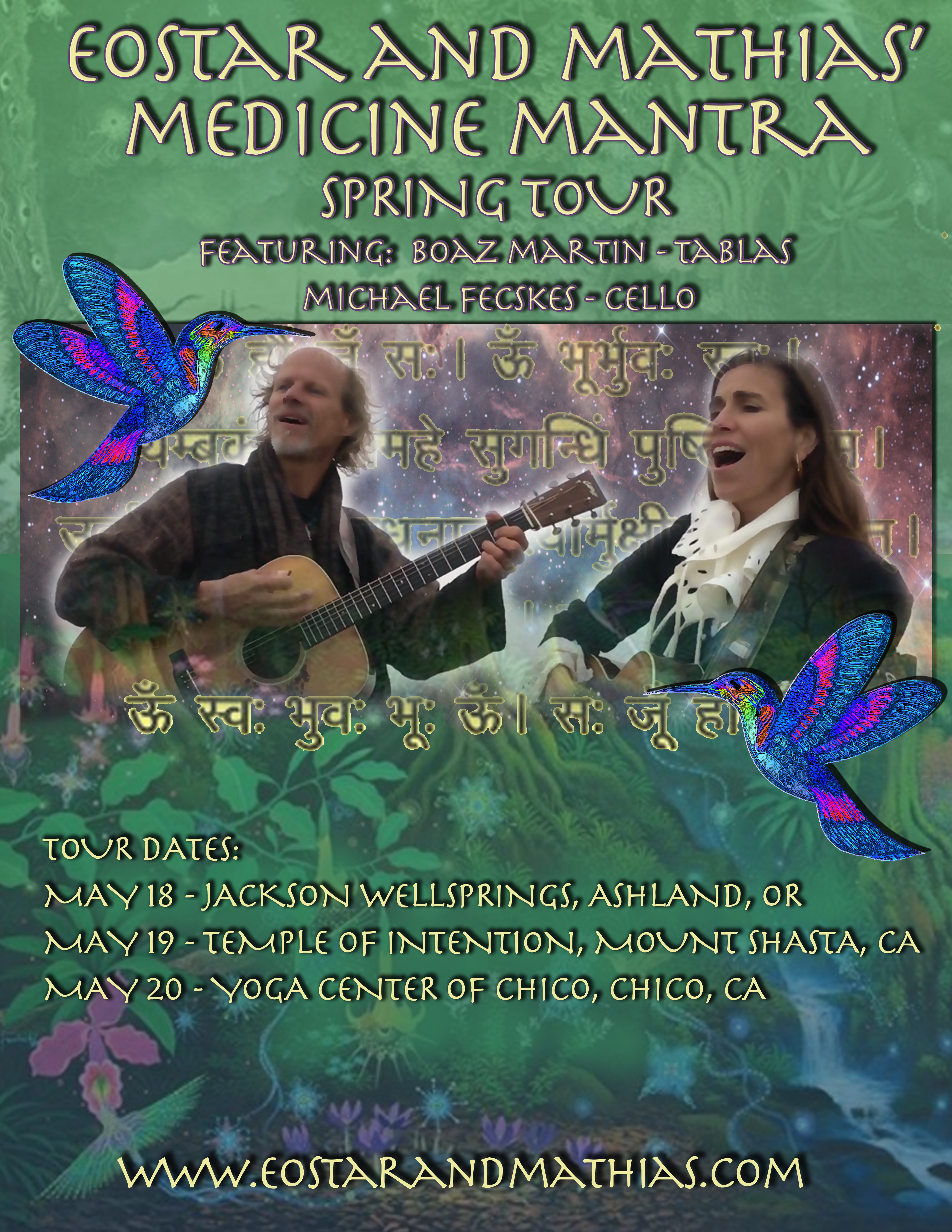 A few posters from our Spring and Summer tours with my acoustic ensemble "Eostar and the Medicine Mantra".
This awesome 4-piece acoustic ensemble is featuring:
-Eostar on guitar and vocals
-Mathias Pailas on lead guitar and vocals
-Michael Fecskes on cello
-Boaz Hashimoto Martin on tabla and world percussion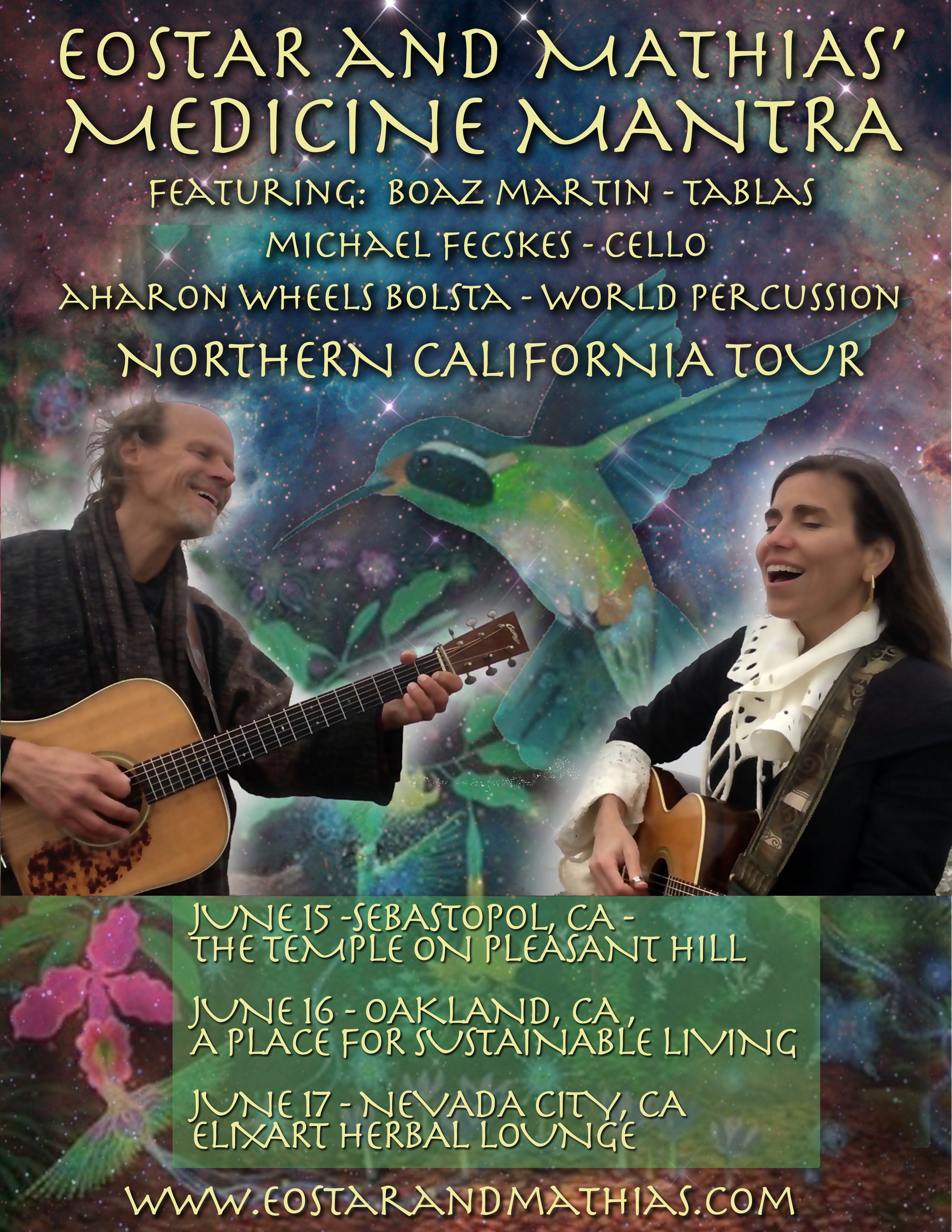 Illuminate – our new studio album weaves together a magical tapestry of sounds.
These original songs and lyrics bring together spiritual wisdom from the ages sculpted into beautiful melodies and evocative grooves with psychedelic guitar work and exotic instruments from around the world. All songs written by Eostar Kamala except "Madre Agua" is written by Alonso Del Rio.
Produced by Mathias Pailas
Co-produced by Tim Gennert and Eostar Kamala
Album cover art: "Rainbow Boat" by Tessa Fenger aka Mythos – www.artbymythos.com
The Hero's Journey – official music video
Enjoy this video shot at the scenic Coleman Valley Road in Sonoma County, California, featuring a song from our new album "Illuminate".  "The Hero's Journey" is a beautiful reminder of the Oneness of All Creation and the similarity between all human experience no matter the circumstances.  Venturing out from daily life to the world of supernatural wonders, our journey of death and rebirth leads to victory; the Gift of the Goddess is granted to the hero in the form of the realized Self upon returning home.  Video produced by Eostar Kamala, filmed by Mikayla Lev and Jason Redhawk.