Eostar Kamala – Journey into the heart of devotion…
Mystic, songwriter, yoga-teacher, shamanic healer, sound-alchemist and visual artist, Eostar is devoted to facilitate real spiritual experiences through offering her being as a hollow channel of Divine Essence.
Like us on Facebook to follow our latest posts…
Announcing our new CD release…
After a beautiful summer that took me to Festival Musica Medicina in Peru and then to Mount Shasta and Oregon, I am grateful to be back in the North Bay Area of California, officially releasing our new album "Iluminate".  This beautiful collection of my original songs is truly a cornerstone in my Life.  Produced by my long-time music companion Mathias Pailas and co-produced by Grammy-nominee sound engineer Tim Gennert and myself, "Illuminate" is a true message of higher consciousness from my heart to yours.  The album-release shows we played with our devotional "tantradelic" rock band were a total success both in Berkeley, CA and in Sebastopol, CA.  At the moment we are back in the music studio and also working on new music videos for the album.  For up-to-date info please sign our mailing-list and click on the "Track" button under the list of events here so you get updates on new events on Facebook!
Our Spring Tour is taking us to Ashland, OR with our new acoustic ensemble "Medicine Mantra".
This awesome 4-piece acoustic ensemble is featuring:
-Eostar on guitar and vocals
-Mathias Pailas on lead guitar and vocals
-Michael Fecskes on cello
-Boaz Hashimoto Martin on tabla and world percussion
Tour dates:
– May 18th Thursday, Ashland, OR – Jackson Wellsprings, Community Room 7:30 pm
– May 19th Friday, Mount Shasta, CA – The Temple of Intention 7:30 pm
– May 20th Saturday, Chico, CA – The Yoga Center of Chico 7:30 pm (www.yogacenterofchico.com)
A few more upcoming Summer concert dates:
June 17th – Elixart Herbal Lounge – Nevada City, CA
(more info: www.elixart.com)
July 7th – Gaia Symposium – Mount Shasta, CA
(more info: www.awakewithinthedreamproductions.com)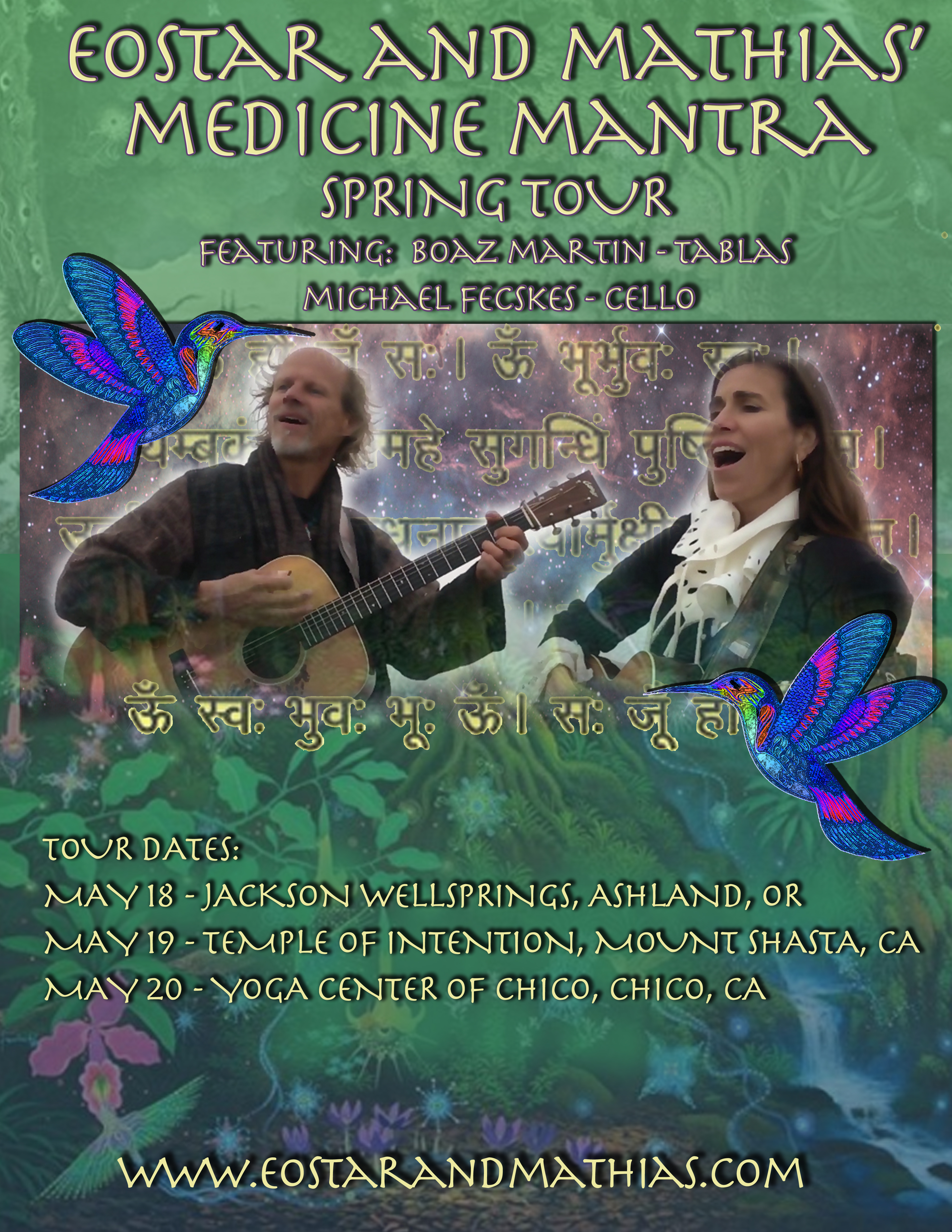 Illuminate – our new studio album weaves together a magical tapestry of sounds.
These original songs and lyrics bring together spiritual wisdom from the ages sculpted into beautiful melodies and evocative grooves with psychedelic guitar work and exotic instruments from around the world. All songs written by Eostar Kamala except "Madre Agua" is written by Alonso Del Rio.
Produced by Mathias Pailas
Co-produced by Tim Gennert and Eostar Kamala
Album cover art: "Rainbow Boat" by Tessa Fenger aka Mythos – www.artbymythos.com
The Hero's Journey – official music video
Enjoy this video shot at the scenic Coleman Valley Road in Sonoma County, California, featuring a song from our new album "Illuminate".  "The Hero's Journey" is a beautiful reminder of the Oneness of All Creation and the similarity between all human experience no matter the circumstances.  Venturing out from daily life to the world of supernatural wonders, our journey of death and rebirth leads to victory; the Gift of the Goddess is granted to the hero in the form of the realized Self upon returning home.  Video produced by Eostar Kamala, filmed by Mikayla Lev and Jason Redhawk.